HomePrezzo makes it easy to create and share content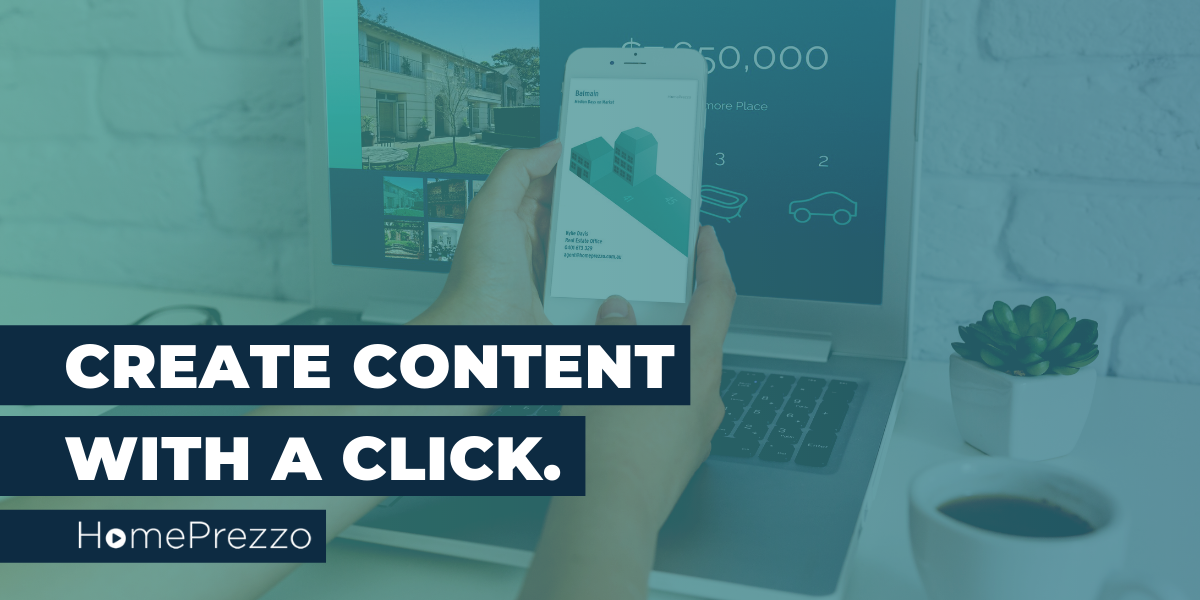 Agents know they need to create content – to push on their social media feeds, to get better engagement on their website, to share in reports and emails. But creating content is time consuming and hard, especially if you want to share something really useful to home buyers and sellers.

That's where HomePrezzo does the heavy lifting.

The Aussie startup is connected to agent testimonial, CRM and MLS data to create engaging and interesting videos, reports and social media gifs automatically.

Type in your property address, choose a photo and the content is automatically branded with your logo, photo and corporate colours, and fresh new information. The 'content-bot' turns a process that can take days or weeks using the traditional method of copy-writers and designers into just a few minutes.

"Once you start with social media, creating content to post can be all consuming – it's a really hungry beast," says HomePrezzo CEO and founder, Nathan Krisanski.

"We wanted to make it as easy as possible for real estate agents to deliver really interesting and useful information to their buyers, sellers and potential clients.

"Our Australian clients report extended time on their websites and more effective emails and social media campaigns using HomePrezzo. Plus it means they now feel capable of creating content, and sharing it, whereas before it was just too big a challenge."

HomePrezzo was originally a video generator. In September, Krisanski was joined by Kylie Davis, an experienced media executive who had been head of content at CoreLogic Australia and the business pivoted to cover a much broader range of content delivered at both an agent and broker level.

Launching at INMAN Connect Las Vegas, HomePrezzo is delivering a free testimonial generator, plus the option to connect to your MLS and CRM to deliver stylish Property Listing and Social Media templates. Neighborhood videos and reports are coming soon.

After creating the content, it is easily shared through connections to Facebook, Twitter, LinkedIn and YouTube.

The business has two elements – a self service app where agents can create content on demand, and a corporate consultancy that delivers interactive, data-driven websites about neighborhoods. These sites are embedded into your own website with just a few lines of code and utilize the best in data visualization, downloadable reports and other lead capture mechanisms.

"What makes HomePrezzo different is our ability to create templates for our corporate clients that completely reflect their brand and their voice – we don't force fit you into the data," says Kylie Davis.

"We use the Adobe suite of products, so you brief us as you would any piece of marketing. It means we are really responsive and flexible around brand requirements and our clients love that."   

HomePrezzo has more than 700 agents and agencies using the platform in Australia and New Zealand and has been adopted by two of Australia's largest brokerages. Visit the HomePrezzo team in Startup Alley. They will have TimTams.

More info:

Nathan Krisanski – nathan@homeprezzo.com
Kylie Davis – kylie@homeprezzo.com