What You Need to Execute A Great Content Marketing Strategy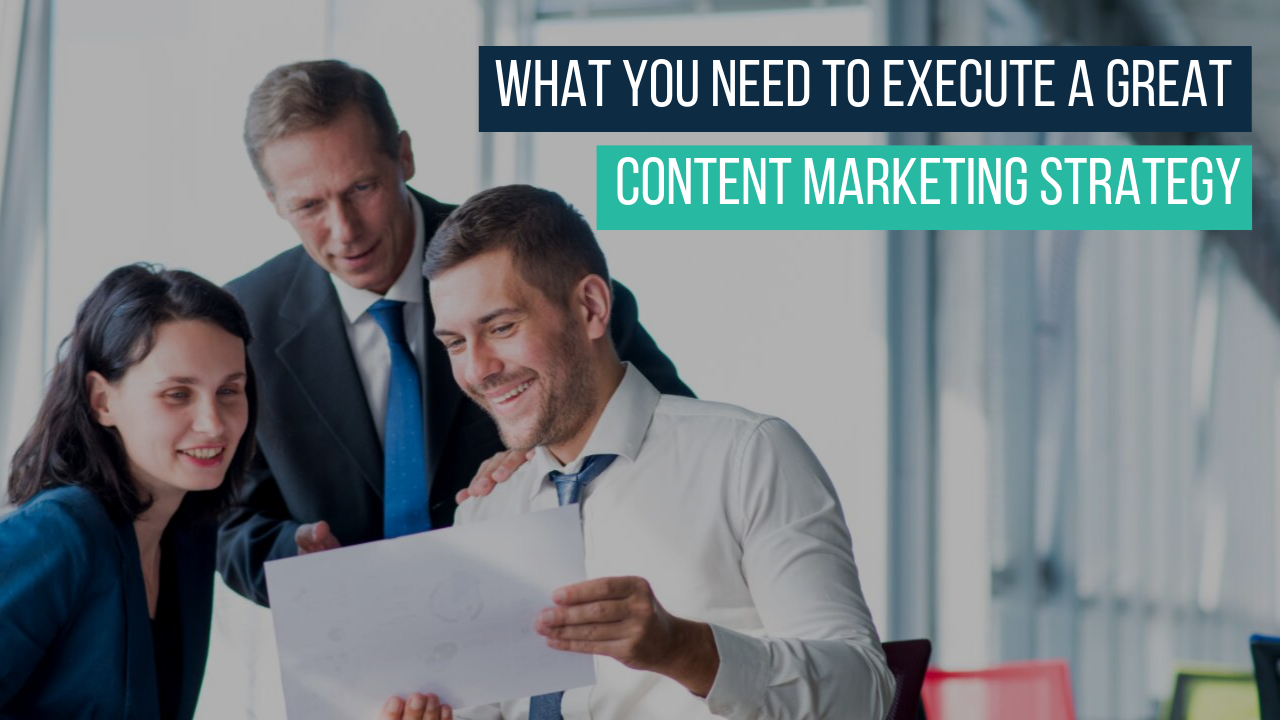 Successful content marketing relies on a combination of commitment, strategy and the regular sharing of information that helps build your reputation.
Start by identifying what you wish to achieve, the time you're prepared to give it, the resources required and how you'll measure your success.
This is an approach that will build trust with between you, your clients and prospects. In a trust economy, companies with a bad reputation or those with little or no presence do badly. Content marketing flips that experience to turn you into an attraction agent.
Many successful agencies have deployed the strategies of writing articles, posting video blogs and sharing ideas that have built trust and ultimately grown their business to the point where customers come to them. Below are some of the basics you'll need to emulate their achievements:
A great website –

This can be the first experience a prospect will have with your agency. Ensure its professionally designed and easy to use. Focus on navigation. If visitors cannot find the information they need, they'll click away disappointed. Don't forget to include your staff on the site so visitors can see the size and commitment of your agency.

A thorough plan –

A calendar of activity will make content marketing seem less confronting when you first start out. Be consistent and constant with your content. Put someone in charge of executing the plan.

Content focus –

Prioritise the type of content you wish to share. Remember, the purpose is to deliver relevant content to clients and prospects, not hit them with self-serving messages. Vary your topics because not everyone will be interested in buying a house or, conversely, selling one. A variety of property-related content is key.

An up-to-date database –

Your database is your most powerful marketing tool. Make sure it's kept up to date and share your content with those who have given you their details.

An email strategy –

Share your content in your regular email updates. Use your content to develop questionnaires and competitions that will grow your list. Make sure everyone in your agency is focused on capturing details of all clients and prospects.

Social Media integration –

Use your social media channels to share your content and drive traffic back to your website. You will reach new prospects and receive warm leads in return. Facebook, Twitter and LinkedIn are great for text-based content. These platforms help you reach big audiences and you link back to the content on your website.

Commitment to share –

Share other people's content when it is relevant to your business goals. For every article you write, consider sharing five to seven articles from others. This will keep your social media channels interesting and varied. Great real estate conversations can be found on Facebook, Twitter and LinkedIn.

Enrol everyone –

Commit everyone in your agency to your content marketing strategy. Your colleagues should follow the agency on all social media platforms and reshare posts as well as hit 'like'. Above all, ensure someone is in charge of executing the plan consistently and make it a KPI.

Video –

Video has quickly become a powerful online marketing tool. While traditionally expensive to create, new tools like HomePrezzo allow you to create informative and helpful videos quickly and easily.